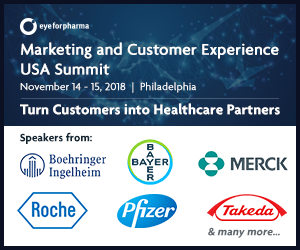 Redefine your customer relationships to become a valued healthcare partner
Digital is dead. Theoretical discussions about the power of technology are obsolete. But pharma has the potential to transform its customer relationships given the right tools.
eyeforpharma is bringing a practical guide to pharma marketers – a first of its kind event that will bring together all stakeholders and deliver a roadmap to revitalizing customer relationships. Go beyond theoretical discussions around digital innovation and discover how you can transform customer engagement with technology – and most importantly how to future-proof your business model and culture.
With the latest case studies, panels led by customers and out of industry expert sessions that will help you create the ultimate, effortless customer experience– this is the event to ensure your business is ready to dominate the market.